Veteran Says Bar Manager Took One Look At Her Service Dog & Kicked Her Out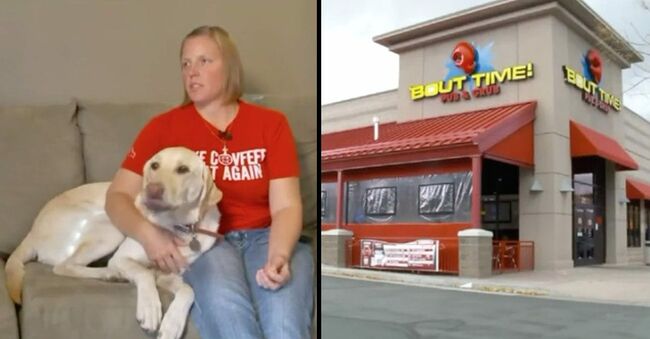 A military veteran in West Jordan, Utah, is claiming she was kicked out of a bar solely because of her service dog. Annalisa Hope stopped at Bout Time Pub and Grub with her service dog, Hawk Eye.
"He's my battle buddy,"Annalisa said of Hawk."You know, in the military you have the term 'battle buddy,' someone who is always there for you — sorry, it's going to make me cry, because you can tell him anything and they're always there for you, just unconditional love."
Annalisa served as a medic in Iraq. The experience of serving her country left her with PTSD and anxiety. While she does enjoy socializing, it isn't always easy. Her PTSD can be triggered by large crowds.
"Because of what happened in the service, I don't like people to stand at my back or when I'm in a large crowd," she said. "It's a loud environment, things can happen suddenly, people cheering can sometimes upset me."
Annalisa needs Hawk by her side when she goes out, especially to places like Bout Time Pub and Grub.
"We actually got as far as going into the door,"Annalisa said. Then she was kicked out.
Annalisa said more than one manager told her Hawk could not enter. They asked her for paperwork or an ID for Hawk — but this kind of documentation does not exist for service dogs.
"What it sounds like is this business is saying flatly we don't allow service animals at all," said Nate Crippes of the Attorney Disability Law Center.
The Americans with Disabilities Act does not require service animals to have vests, certifications, or identification, and these items cannot be required by businesses.
The bright side of this all is that it opened a dialogue between Annalisa and the restaurant owner, Tim Ryan. Tim reached out and Annalisa agreed to come to the pub and educate staff about the rights of service animals and people with disabilities.
Please SHARE this story with your family and friends on Facebook!