Raul Esparaza Leaves 'Law And Order SVU' After 6 Seasons
After 6 seasons of being Assistant District Attorney, Rafael Barba on Law and Order SVU, Raul Esparaza has left the series. Season 19, episode 13, the episode of Law and Order that we will all remember as the hour our favorite DA from the series was in court for the last time.
"I've done six seasons, I felt like it was time to go," Esparza, 47, told Entertainment Weekly. "I had explored a lot of what I thought Barba was about. I just felt it was time to move on. I was also feeling like the role has changed over the years in a way that has been an interesting experience for me. Again, I'm a theater guy, so it's like having a script in front of you that keeps changing every time you go to do it. The learning process of how roles grow over a period of time with a series has been kind of fascinating, and I just felt I had reached the end of what I wanted to explore where they were writing."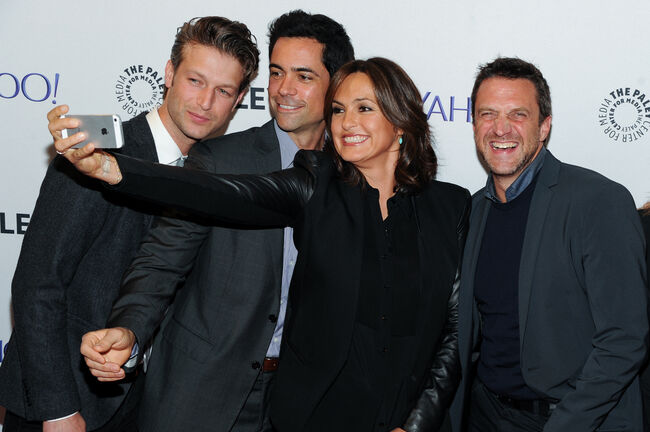 The actor explained that the people working for the show decided to not kill off Barba in case he ever wants to come back in the future of the show. This gives us hope that maybe this isn't the last time we see Esparza with SVU. "I think that Barba's become a part of the SVU family, and I think there's a life for him," he said. "I don't know necessarily, but it's possible that there's a life for him as the series goes on. I'm glad they left that door open."
Raul took to Twitter February 7th saying, "Goodbye Barba. Thank you. You changed my life. My squad. And you, you always, my Liv, my friend Mariska [Hargitay]. I will always treasure my time with all of you..."
Mariska, who plays Lieutenant Olivia Benson, said goodbye to Esparza on Twitter after the episode aired, writing, "One of the great honors of my life is to have shared the screen with the incredible scene partner, beautiful friend, giant heart, brilliant artist, kindest of men @RaulEEsparza. #SVU has been graced and great with you in it. Family always gets to come home… come home soon."
There have been many other ADA's that have left the show in the past. One of the most infamous show names, Elizabeth Donnelly who was on the show from seasons 3 to 6. She was elevated to judge in season 7. Her successor, Casey Novak, also became a household name after being on the show for five seasons and then coming on as a guest star in seasons 10, 12 and 13.
Season 14, Assistant District Attorney Rafael Barba, joined the cast. In his first case ever, episode Twenty-Five Acts, Barba became known as a headstrong prosecutor, who would get creative in trial. The season continued with many other important strides for Barba as a district attorney, until the end of his first season on the show where we noticeably see him becoming more a part of the SVU group. In season 15, Esparaza was officially added to the opening credits making his the squad's fourth full-time ADA.
Barba was such an important part of this Law and Order crew and we are sad to see him go.
Comment and let us know your favorite Barba moment!
Photo: Getty