Austin Bomber Blows Himself Up As Police Move In For Arrest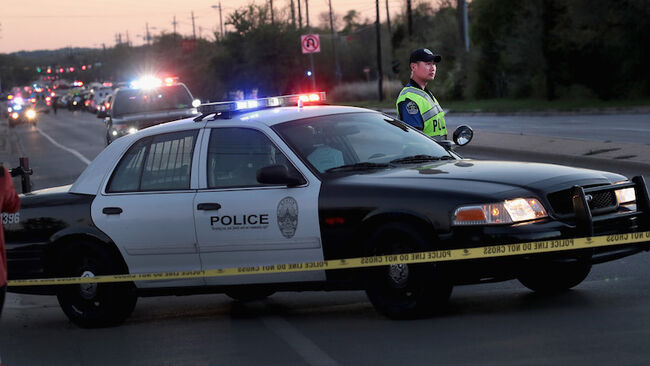 The Austin serial bombing suspect is dead according to authorities in Texas.
Austin Police Chief Brian Manley says the suspect detonated an explosive device after being tracked down overnight near Austin. Austin Police officers and FBI agents moved in to arrest the suspect at a hotel just north of Austin overnight. They say he ran and got into a vehicle trying to evade the police. He then stopped his car and eventually blew himself up. Shots were also fired by police.
NBC News identified the suspect as Mark Anthony Conditt but police have yet to confirm the report. He did not have a job and did not have any record of military service. He lived with two roommates who are both cooperating with police.
Authorities tracked down the suspect by using surveillance video from a FedEx store in Austin and store receipts that showed what investigators call suspicious transactions. Two people were killed and four were injured in the bombings that began early this month.
A high-ranking law enforcement official told the Austin American-Statesman that investigators were able to identify the suspect in the past 24 hours. Authorities used information collected after the suspect shipped an explosive device to a FedEx store.
President Trump tweeted this morning, "AUSTIN BOMBING SUSPECT IS DEAD. Great job by law enforcement and all concerned!"
Law enforcement are trying to determine this morning whether the serial bomber left more explosive devices anywhere before he killed himself as police and the FBI tracked him down overnight.
The bombings started on March 2nd killed two people and injured four others.
Photo: Getty Images