Woman Arrested, Evicted For Leaving Nasty Note On Ambulance
Kristy Sharman was so furious when she left her house and saw an ambulance sitting in front of it that she wrote a nasty note and left it on the rig's windshield. 
It read, "If this van is for anyone but Number 14 then you have no right to be parked here. I couldn't give a s**t if the whole street collasped (sic). Now move your van from outside my house." The image was tweeted out by an EMT with the caption, "Very angry to see yet again people getting grief for doing their job. We don't block the road for something to do."
The paramedics were actually there on an emergency call working on Kristy's sick neighbor. When one of them emerged from her neighbor's house to get a chair to transport the elderly woman, Kristy began to scream at the EMT. The police were called and she was arrested and fined, but things have gotten worse for her.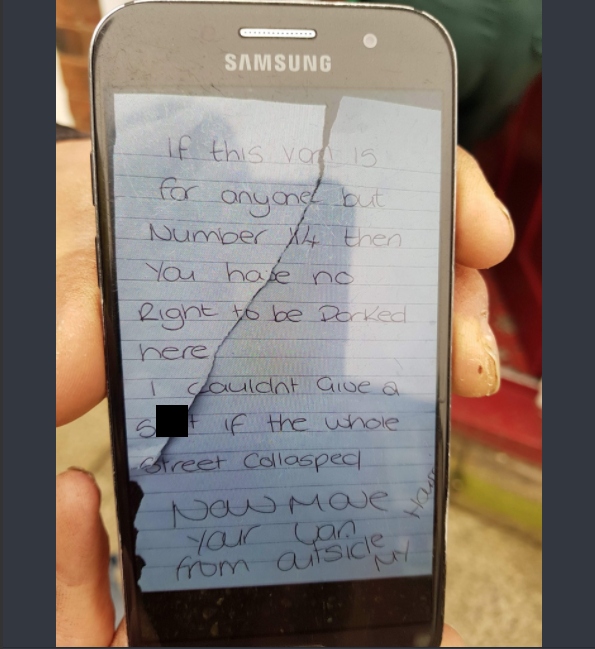 Kristy has also now been evicted from her home. It turns out that her behavior towards the paramedics is just one of many times she's upset her neighbors, who describe her as loud and abusive. They presented a judge with evidence of her anti-social and criminal acts, as well as her swearing, shouting, arguing and damaging property. It was enough for the judge to decide to give her the boot from her house. 
Sharman hasn't made how she feels about her neighbors a secret. After her arrest, she tweeted, "Ya'll going on like I hate the NHS ambulance service. Nahhh, I just hate the people in my street... it's that simple."
No word yet on where she'll live next.
Photo Credit: Twitter