New Report Exposes America's Dirtiest Beaches Just in Time For Summer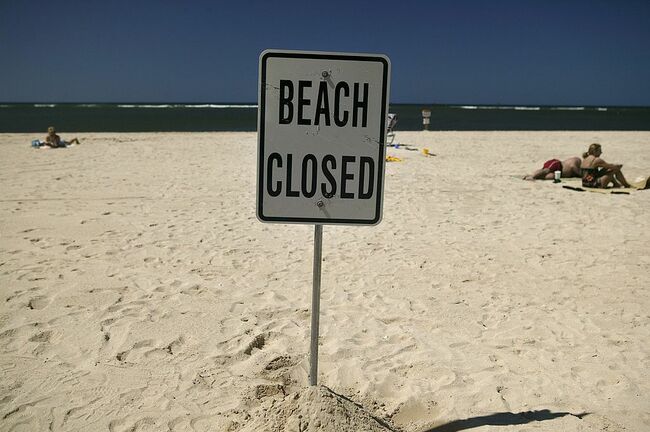 Beachgoers beware! With summer in full swing, it's not always safe to head out into the water. According to a new report from the Environment America Research and Policy Center (EARPC), around 75,000 swimmers every year are sickened thanks to water at beaches that had high bacteria counts that exceeded Environmental Protection Agency (EPA) standards. In fact, nearly 60 percent of the 4,523 beaches tested by the EARPC had high water pollution levels that put swimmers at risk of falling ill at least once last year.
John Rumpler, the director for Environment America's Clean Water Program, said the study looked at fecal bacterial levels at beaches in 29 states as well as Puerto Rico.
"Swimming at the beach is a prime summertime joy for millions of Americans, but clearly we have more work to do to make sure water at all our beaches is safe," said Rumpler. "We must invest in water infrastructure that prevents pollution to ensure that America's waterways are safe for swimming."
Most of the year, swimmers can feel safe enough going into the water. But, researchers have found that bacteria counts in the water can skyrocket on certain days - especially after recent rains or when sewers overflow and are discharged into waterways that feed into the ocean. Large amounts of bird droppings can also contaminate the waters.
People fall ill when exposed to high amounts of fecal bacteria in the water, with most sicknesses being diagnosed as a gastrointestinal illness. In one study published by the journal Environmental Health, an estimated 57 million cases of gastrointestinal illnesses could be blamed on poor water conditions at beaches every year. The study showed that more than 2,600 beaches exceeded EPA standards at least once last year and of those, 610 were potentially unsafe in at least one-quarter of the bacteria tests.
Nearly 870 beaches were closed last year due to high bacteria levels.
"Our analysis of nearly 200,000 sampling results reveals threats to public health at beaches in every corner of the country, from Maine to Hawaii," said Gideon Weissman of Frontier Group, report co-author. "It's no longer enough to warn swimmers when beaches may be unsafe, especially when there are steps we can take today to reduce the threat of bacterial contamination in our waterways."
Check out the full list of the top five beach closures in the 29 states as surveyed below: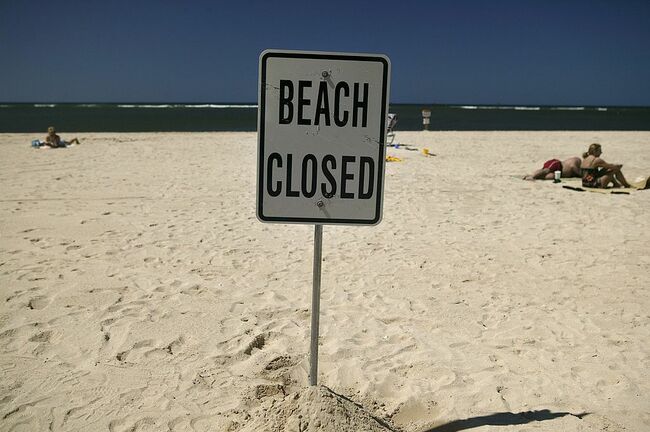 Alabama
Fairhope Public Beach, Baldwin (21 unsafe days, 60 samples)   
Dog River, Alba Club, Mobile (9, 36)   
Camp Beckwith, Baldwin (8, 58)   
Volanta Avenue, Baldwin (8, 36)   
Orange Street Pier, Baldwin (6, 34)   
California
Inner Cabrillo Beach, Los Angeles (85 unsafe days, 175 samples)
Coronado Ave. Beach, Los Angeles (62, 144)   
Salt Creek Beach, Orange (46, 80)
Molino Avenue Beach, Los Angeles (45, 130)   
5th Place Beach, Los Angeles (44, 140) 
Connecticut
Byram Beach (South), Fairfield (6 unsafe days, 20 samples)
Byram Beach (North), Fairfield (6, 20)
Seaside Park Beach (Southernmost), Fairfield (5, 14)
Seaside Park Beach (South), Fairfield (4, 13)
Seaside Park Beach (Mid), Fairfield (4, 14)
Delaware
Slaughter Beach, Sussex (16 unsafe days, 25 samples)
Fenwick Island State Park Beach, Sussex (3, 16)
Rehoboth Beach, Sussex (3, 32)
Broadkill Beach, Sussex (2, 16)
Lewes Beach North, Sussex (2, 17)
Florida
Bayou Texar, Escambia (24 unsafe days, 50 samples)
Sanders Beach, Escambia (23, 64)
Crandon Park on Key Biscayne, Miami-Dade (17, 63)
Bird Key Park, Sarasota (17, 67)
Venice Fishing Pier, Sarasota (15, 64)
Georgia
St. Simons Island Lighthouse, Glynn (6 unsafe days, 50 samples)
Skidaway Narrows, Chatham (3, 8)
Kings Ferry, Chatham (3, 4)
Tybee Island, Polk St., Chatham (3, 46)
Jekyll Driftwood Beach, Glynn (2, 46)
Hawaii
Keehi Lagoon (North), Honolulu (11 unsafe days, 91 samples)
Keehi Lagoon (South), Honolulu (10, 91)
Punaluu Beach Park, Honolulu (9, 12)
MS2 (Kapoho Point), Honolulu (9, 20)
Kalihi Channel, Honolulu (8, 91)
Illinois
South Shore Beach, Cook (93 unsafe days, 98 samples)
63rd Street Beach, Cook (91, 95)
Foster Avenue Beach, Cook (90, 96)
Calumet South Beach, Cook (89, 96)
Rogers Avenue Park Beach, Cook (89, 95)
Indiana
Jeorse Park Beach I, Lake (40 unsafe days, 111 samples)
Jeorse Park Beach II, Lake (38, 111)
Buffington Harbor Beach, Lake (28, 111)
Indiana Dunes State Park East Beach, Porter (23, 101)
Washington Park Beach, LaPorte (22, 105)
Louisiana
North Beach, Calcasieu (11 unsafe days, 31 samples)
Cypremort Point State Park, St. Mary (10, 31)
Fontainebleau State Park, St. Tammany (10, 29)
Rutherford Beach, Cameron (9, 31)
Holly Beach 4, Cameron (7, 31)
Maine
Goose Rocks Beach – Site 5, York (14 unsafe days, 39 samples)
Goose Rocks Beach – Site 1, York (9, 39)
Willard Beach, Cumberland (8, 26)
Ogunquit Beach, York (7, 14)
Kennebunk Beach, York (6, 18)
Maryland
Camp Pecometh, Kent (9 unsafe days, 16 samples)
Public Landing Beach near Snow Hill, Worcester (8, 15)
Ocean City Beach 1, Worcester (8, 28)
Purse State Park, Charles (7, 12)
Ferry Park, Kent (7, 10)
Massachusetts
Nahant Bay at Eastern Ave, Essex (39 unsafe days, 92 samples)
Tenean Beach, Suffolk (26, 94)
Nahant Bay at Pierce Road, Essex (23, 92)
Nahant Bay at Kimball Road, Essex (21, 92)
Quincy Shore at Channing Street, Norfolk (18, 93)
Michigan
St. Clair Shores Memorial Park Beach, Macomb (26 unsafe days,  49 samples)
Pier Park, Wayne (15, 20)
HCMA/Lake St. Clair Metropark Beach, Macomb (13, 51)
New Baltimore Park Beach, Macomb (12, 48)
Singing Bridge Beach, Arenac (11, 11)
Minnesota
New Duluth Boat Club landing, St. Louis (16 unsafe days, 37 samples)
Near Duluth Aerial Lift Bridge, St. Louis (10, 29)
Agate Bay, Lake (5, 17)
Twin Points Public Access, Lake (4, 16)
Flood Bay, Lake (3, 14)
Mississippi
Gulfport East Beach, Harrison (44 unsafe days, 66 samples)
Shearwater Beach, Jackson (35, 64)
Long Beach, Harrison (35, 67)
Gulfport Central Beach, Harrison (35, 62)
Courthouse Road Beach, Harrison (34, 60)
New Hampshire
State Beach-Left, Rockingham (5 unsafe days, 26 samples)
State Beach-Center, Rockingham (5, 27)
New Castle Island-Right, Rockingham (4, 23)
State Beach-Right, Rockingham (3, 26)
Sawyer Beach-Right, Rockingham (2, 8)
New Jersey
Berkeley Township/Beachwood Beach West, Ocean (14 unsafe days, 22 samples)
Belmar Borough at L Street Beach, Monmouth (11, 21)
Berkeley Township at West Beach Avon Road, Ocean (8, 19)
Brick Township at Windward Beach, Ocean (8, 22)
Highlands Borough at Highlands Recreation Center, Monmouth (8, 19)
New York
Tanner Park, Suffolk (48 unsafe days, 71 samples)
Woodlawn Beach State Park, Erie (47, 104)
Shirley Beach, Suffolk (28, 47)
Venetian Shores, Suffolk (28, 48)
Valley Grove Beach, Suffolk (24, 51)
North Carolina
Sound access at the intersection of E. Main Street/Tooley Street, Belhaven, Beaufort (11 unsafe days, 35 samples)
NC Maritime Museum Sailing Camp, Carteret (8, 41)
Pamlico River – City Park, Beaufort (8, 17)
End of Shore Line Drive, Pender (7, 39)
Pamlico River-Washington-Trestle, Beaufort (7, 17)
Ohio
Bay View West, Erie (48 unsafe days, 70 samples)
Maumee Bay State Park (Inland), Lucas (43, 56)
Villa Angela State Park, Cuyahoga (42, 115)
Lakeview Beach, Lorain (39, 60)
Euclid State Park, Cuyahoga (38, 112)
Oregon
Sunset Bay State Park Beach/Big Creek, Coos (11 unsafe days, 18 samples)
Nye Beach turnaround/discharge pipe, Lincoln (5, 11)
Harris Beach State Park at Harris Creek, Curry (5, 7)
Sunset Bay, Seep Creek, Coos (5, 11)
Sunset Bay State Park Beach/North Beach, Coos (4, 18)
Pennsylvania
Beach 11 West in Thompson Bay, Erie (17 unsafe days, 39 samples)
Beach 11 East in Thompson Bay, Erie (17, 39)
Beach 11 Center in Thompson Bay, Erie (16, 39)
Barracks Beach West, Erie (9, 31)
Barracks Beach East, Erie (7, 31)
Rhode Island
Easton's Beach, Newport (10 unsafe days, 29 samples)
Conimicut Point Beach – West, Kent (6, 25)
Goddard Memorial State Park Center, Kent (5, 27)
Sandy Point Beach – South, Newport (5, 26)
Oakland Beach Center, Kent (5, 26)
South Carolina
Withers Swash, Horry (32 unsafe days, 70 samples)
Myrtle Beach at 24th Avenue N, Horry (30, 70)
White Point Swash, Horry (26, 70)
Bear Branch Swash, Horry (26, 70)
Cane Patch Swash, Horry (26, 70)
Texas
Cole Park – Site 3, Nueces (52 unsafe days, 64 samples)
Ropes Park – Site 2, Nueces (43, 59)
Cole Park – Site 4, Nueces (42, 53)
Cole Park – Site 2, Nueces (38, 56)
Poenisch Park, Nueces (35, 55)
Virginia
North Community Beach, Norfolk city (7 unsafe days, 18 samples)
Captains Quarters, Norfolk city (5, 18)
10th View, Behind Quality Inn, Norfolk city (4, 18)
15th Street, Virginia Beach city (4, 20)
13th View, North End, Norfolk city (3, 18)
Washington 
Sooes Beach, Clallam (7 unsafe days, 41 samples)
Lummi Bay, adjacent to second tidegate, Whatcom (5, 34)
Dakwas Park Beach, Neah Bay, Clallam (5, 48)
Little Squalicum Park, Whatcom (5, 15)
Cline Spit County Park, Clallam (4, 15)
Wisconsin
Cupertino Park, Milwaukee (40 unsafe days, 60 samples)
McKinley Marina Roundhouse, Milwaukee (36, 61)
Wolfenbuttel Park, Kenosha (27, 51)
North Nicolet Bay Campground, Door (18, 59)
Racine North Beach – Site 1, Racine (18, 65)
Source: Environment America Research and Policy Center
Photos: Getty Images